A. B. Herndon Rod Co. specializes in the art of handcrafting
custom split bamboo fly rods for fly fishing. Our bamboo fly
rods are not only a perfectly balanced fly fishing tool, but also
a visual work of art.
Photo by Oystein Larsen, Norway
Please view Oystein's testimony regarding this fine Grayling!
We use only the finest proven classic tapers, hand selected
Tonkin cane and other quality bamboo rod building components.
We choose only the classic tapers from the past: Dickerson, Garrison,
Payne, Young and many other time tested and proven tapers...
Why ruin a good thing! Using this strategy, we can handcraft a split cane fly rod
that will meet the preference of each of our client's casting style and needs.
Photo of Dave Higman, Professional Fly fisherman, CA
The end result is a bamboo fly rod that our clients are assured
to be proud to not only own and fly fish, but will be honored to
pass on to future generations!
Current Pricing for Both Our Finished Rods and Blanks :
At this time our rods are priced at $2000.00 for a two piece, two tip rod and $2100.00 for a three piece, two tip bamboo fly rod. Each rod is built according to the clients selection of components and choice of rod taper. A 10% discount is given on the rod when a fly reel and line are purchased together. Demo bamboo fly rods are available for a slightly lower price, the price will depend on the amount it has been used. We have several fly reels and fly lines to compliment your bamboo fly rod. Our list includes Peerless Classic and Raised Pillar and Bellinger fly reels. We carry Phoenix Silk lines available in double taper. Terenzio Silk and Cortland Sylk lines.
Ferruled 2 piece/2 tip bamboo fly rod blanks with tiptops are priced at $600.00, and 3 piece/2 tip blanks at $650.00. We can also supply all components to complete any bamboo blank purchase, at a discounted price.
Unferruled bamboo fly rod blanks are also available. A two piece/two tip blank is $550.00 and unferruled three piece/two tip bamboo blanks are $575.00.
We can also supply ferrules at a discounted price, along with any other rod building components.
Photo By Jean-Louis Carré,Paris-France
Here's some comments from one of our many happy bamboo fly rod clients:
"I own five bamboo rods, but last summer I only fish
with one of these : my A.B. Herndon 7'6 4/5wt 3pce. I
really fall in love with this treasure. First it's a
true casting machine : soft, accurate, responsive...
but it's also a splendid cane rod with a perfect
completion.
In fact, all in this rod speak about her "father" :
Bruce is a real gentleman, attentive to all you could
want. With him, I feel totally in confidence. Sure, he
will make my next rod."
Jean-Louis Carré, Editor, Paris-France
(Please take time to view our Testimonials)
We build both two and three piece split cane fly rods in line weights 3 thru 7.
The length of our bamboo fly rods can vary from 6' thru 9 1/2' depending on the taper selected. We will work with our client to insure a Bamboo Fly Rod taper that is best suited for the type of Fly fishing and waters that he or she fishes.
There is a wide variety of silk thread colors to choose from when designing your custom split bamboo fly rod. We offer a wrapped bamboo color stick for your viewing of the many silk wraps available for your handcrafted bamboo fly rod.
Each custom ordered split cane fly rod is personalized with the owners name, length and line weight. Every bamboo fly rod, including both tips, is serial numbered and engraved both on the bamboo fly rod butt cap and brass rod tube cap. Aluminum & cork Ferrule plugs are included for all our finished cane rods.
We also offer fossilized Mammoth and fossilized Walrus Ivory ferrule plugs to add that finish touch to your bamboo fly rod. (Your own rod or one of ours) This option is at an additional charge for our custom built bamboo fly rods. They range in price from $25.00 to $36.00 each depending on the materials used. They can be made for both two and three piece fly rods. Please contact us to for more information, or to place an order.
Fossilized Mammoth Ferrule Plugs
We offer complete fly fishing rod packages that include your choice of an Bellinger or Peerless fly reel and a Cortland, Phoenix Silk or Terenzio Silk fly line.
This is a perfect bamboo fly rod package for fly casting, both on streams and lakes. These fly rod packages provide a 10% savings on the cost of the finished bamboo fly rod. $5.00 Shipping to the USA! Discounted shipping world wide!
Saracione Mark IV Fly Reel
The backing, leader and reel set up are always included at no cost!
We also will be listing a limited number of discounted new and used fly rods, bamboo fly rod blanks, reels, lines and other miscellaneous fly fishing tackle at times. Please visit the Sale and Closeout Items page in our online catalog, to see what is available.
A Phoenix Silk Fly Line is the perfect line to accompany our bamboo fly rods!
Please Also view "Choosing a Silk Fly line" and "Silk Line History and Care" pages to help in making your selection.
(The Phoenix Silk line Page also list Phoenix Weight Forward silk fly lines and Phoenix silk leaders.)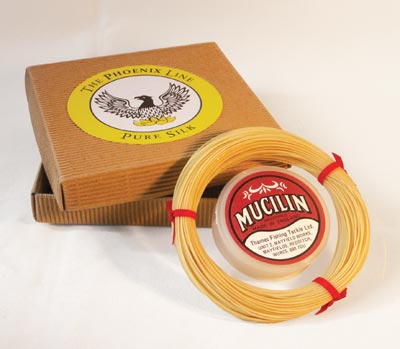 Phoenix Silk (Double Taper) Fly Line $250.00
We are pleased to offer Terenzio Silk Fly lines and tapered silk leaders.
Here is one of our seasoned bamboo rod and silk fly line clients review of Terenzio Silk Fly Lines:
Bruce ,
I have one other Terenzio silk line , and it is by far the best I have used in the last 58 years of fly fishing with silk . Started fly fishing when I was 16 and grew up with bamboo rods and fish them exclusively .
How is that for a testimonial !
Bob
Terenzio (Double Taper) Fly Line $183.00
We also carry both Cortland Sylk fly lines and the popular 444 "Peach" Classic Series fly lines that have been designed especially with the bamboo fly rod angler in mind!
We are proud to be distributors of Mark Hopkins' fine bronze sculptures. The vast diversity of Mr. Hopkins' interests will appeal to everyone, not just the fishermen! We have several Mark Hopkins Sculptures fly fishing bronzes available on our gift page.
Also visit our Online Catalog for many other bamboo fly rod and fly fishing accessories.
For security purposes, our checkout is managed by PayPal.
However if you prefer to make payment with any major credit card, personal check or money order, please contact us to complete your purchase.
We offer other fly fishing equipment and accessories to meet all of your fly fishing needs. We are authorized dealers of fine accessories such as Richard Wheatley Fly Boxes.
Please visit our Rod Accessories page or Online Catalog for information regarding fly reels, fly lines and other quality fly fishing equipment that we offer.

sitemap